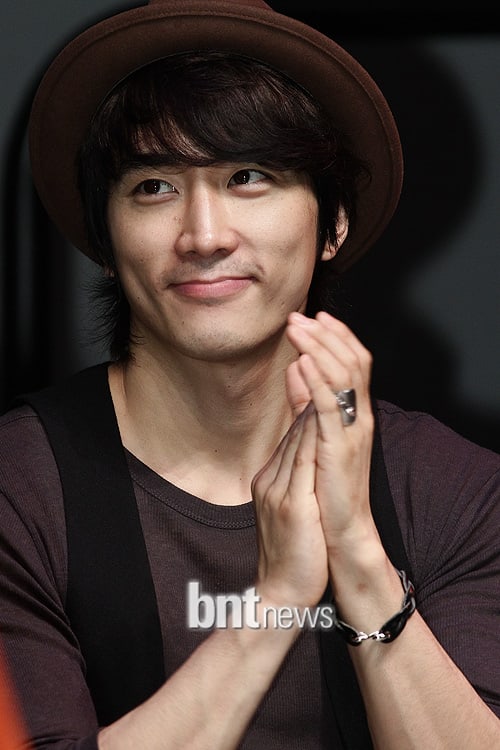 Cr. - kdramastars
Song Seung Hun made a strong initial impression playing Han Tae Sang in this week's first two episodes of "When A Man," so it's only natural that his fans might want to know more about him.
In the drama he plays Han Tae Sang, a tough guy loan shark with an unfortunate sympathy for people who have life's odds stacked against them. That brings us to his first fun fact.
1. Song Seun Hun's nickname is "tough guy," which he probably earned playing aggressive roles in the 2008 drama, "East of Eden, the 2008 film, "Fate," and the 2010 remake "A Better Tomorrow."
2. He has been called "vampire handsome," because although he has acted since 1996, he doesn't seem to have aged much. He credits his youthful looks to quitting smoking, only drinking lightly, and exercising a lot. Also, he says there is a benefit to "thinking positively." In his spare time, he likes to watch films, play golf and chat on social media.
3. He's a smart businessman. He owns a talent management agency and a restaurant. His talent agency, Storm S Company, manages actors Lee Young Ae, Kim Jung Eun, Jo Hyun Jae and Kim Min Jung. He also owns a branch of the Italian restaurant chain Blacksmith. Why a restaurant? When he was little, the actor's first dream was to manage a hotel with his name on it.
"I think you can say that opening a restaurant is my first step toward that dream," said Song.
4. He may be a "tough guy" but he says that his toughest acting experience was during the filming of "Dr. Jin." It was a lot more fun to act in a saeguk than he expected but looking the part was a challenge.
"Filming was extremely taxing," said Song. "The costumes are hot because they're Joseon-era clothes. I had to wear a wig... but thanks to "Dr. Jin," I was able to feel the fun of the sageuk genre."
5. He looks forward to getting married but believes love at first sight doesn't last forever. "You should marry the person who's your friend, whom you can talk with comfortably," said the actor.
However, when he was asked who his ideal type was, he mentioned Song Hye Kyo, and he has maintain her as his ideal type for a few years, which is rare, since people tent to change who they like as the years go on.
"I've worked with a lot of actresses, but Song Hye Gyo and Kim Tae Hee are closest to my ideal type," said the actor.